O4 Hubs detail
O4 1 Column (Full)
O4 2 Columns (1/4 - 3/4)
O4 Text Component
Adding to the nation's defense team
The U.S. Military Entrance Processing Command (USMEPCOM) is responsible for ensuring those entering the service are both physically and mentally prepared for active duty. LHI, part of Optum Serve, has supported USMEPCOM since 2012 to screen and process applicants into the five branches of the U.S. Armed Forces and their associated Reserve and National Guard. Board-certified physicians within the Optum Serve provider network serve military applicants from a variety of medical specialties, including:
O4 2 Columns (1/2 - 1/2)
O4 Text Component
Allergy

Audiology

Cardiology

Dental

Dermatology

Ear, nose and throat

Gynecology

Internal medicine

Laboratory

Neurology
O4 Text Component
Optometry

Ophthalmology

Orthopedics

Podiatry

Psychology

Psychiatric

Pulmonary

Radiology

Urology
O4 Text Component
Download the fact sheet to learn more about how Optum Serve supports military applicants through USMEPCOM.
O4 Complex Card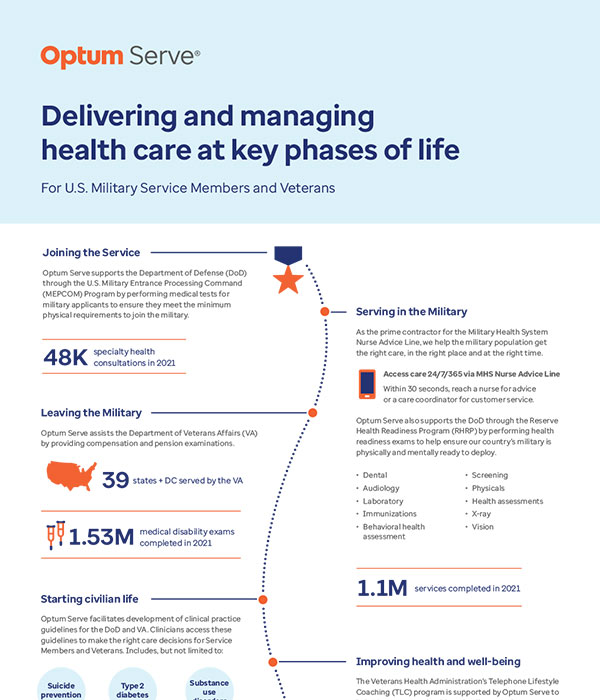 Military & Veteran Health Care Journey: Infographic
Delivering and managing health care at key phases of life for Military Service Members and Veterans.
O4 Complex Card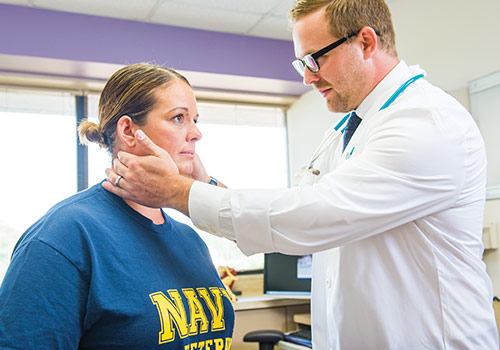 Delivering Value-Based Care for Veterans Affairs & DOD | Optum
Best practices to help transition to value-based care.
Learn how we can help solve your challenges